Forefather's Monument, Plymouth - 19Oct2013
The tour was absolutely FABULOUS!!! We cannot recommend BettyAnne Tours highly enough; she knew her history, she knew all kinds of wonderful facts and background information, she took time for ALL our questions, and we had a terrific, terrific day. If you want an historic tour of the Plymouth area -- BettyAnne is THE ONE to contact.
For those who wish to go: the Forefather's Monument is on Allerton Street in Plymouth, MA, about a half mile or less from the Visitors Center on Water St.
General tour info:
http://www.cranberrytours.com/sitesvisited.html
Driving directions:
http://www.cranberrytours.com/drivingdirections.html
Where to start, and how to continue? It was a fabulous day, and I took pages and pages of notes. We met our tour guide, BettyAnn, at the Visitor's Center. She gave us two tours for our time and our money: the Monument, and a working cranberry bog. Below the picture you will find the text of my notes. We got far more information that was available in Kirk Cameron's excellent documentary "Monumental" - which is not at all to denigrate his work, but rather to say how much additional information BettyAnne had for us.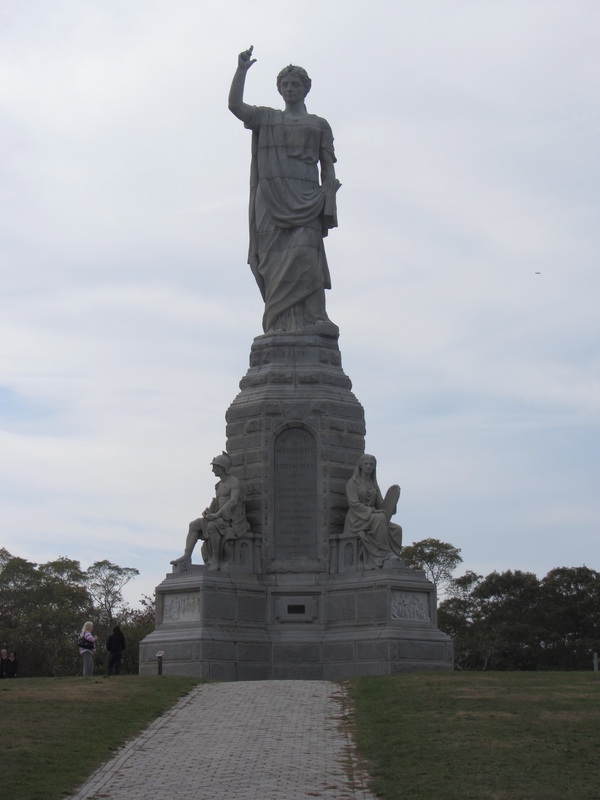 As one approaches the monument, the first thing that strikes is the sheer SIZE of this structure. It is HUGE. The two courses of base blocks themselves are taller than a person. It towers over the surrounding area.

The central figure is FAITH. She was the model for the Statue of Liberty! The star on her head stands for the mind. She holds a Bible in her left hand, dog-eared from reading and studying it. With her right hand she points to God.

She is surrounded by four figures, which go counter-clockwise around the base from the lower right.

The first figure, on the right as you look at this picture, is Morality. She holds the Book of Revelation and one tablet of the 10 Commandments. She is wearing the necklace of the Israeli High Priests with the symbols of the 12 Tribes of Israel. She shows that the study of the Word of God leads to Morality.

Next comes Law - equal for ALL people, regardless of wealth, political position, or lower status. It is based on Biblical statements and administered with Mercy and Justice. He holds two law books.

The third figure is Education, holding an open book. Educating youth (and adults) properly was an ideal for which to strive. The end result of proper education is Wisdom - else learning brings no good. (As we can see all around us; there are far too many over-educated fools with more hair than wisdom - including some who are bald!)

The result of Faith, guided by Morality, under Law administered with Justice and Mercy, guided by Wisdom that comes from proper Education -- is Liberty. Liberty breaks the chains of tyranny, then kills it. The shackles are broken. He is armed and ready to stand in defense of the Liberty he worked so hard to achieve.

There is so very much more; side panels and bas-reliefs and plaques and signs. Watch the documentary, then go see in person - with BettyAnne as your guide!

This Monument stands ready to guide us back to our own Liberty, that we may once again be a beacon to all who seek Liberty, Justice, and Freedom.
---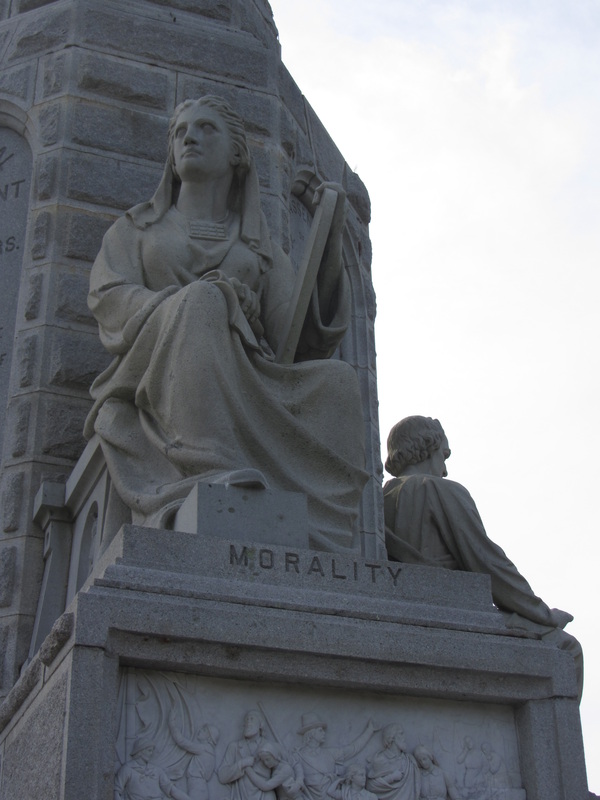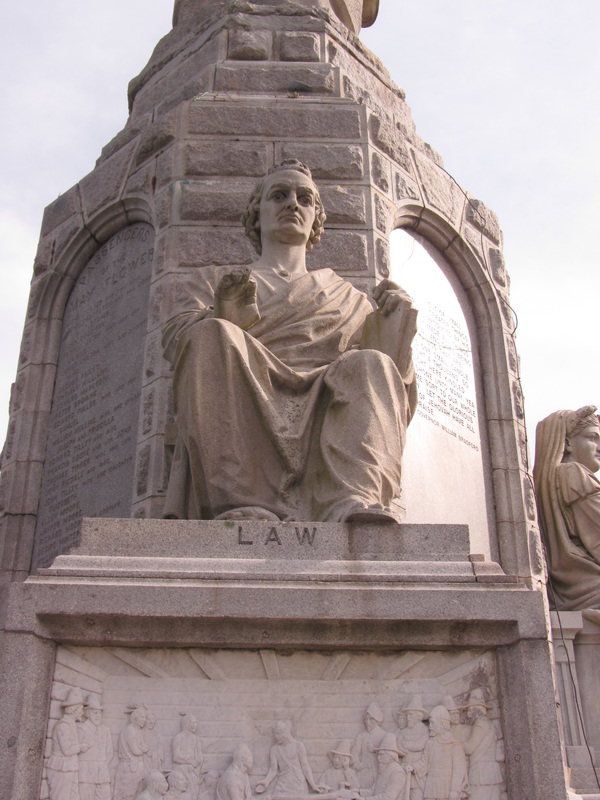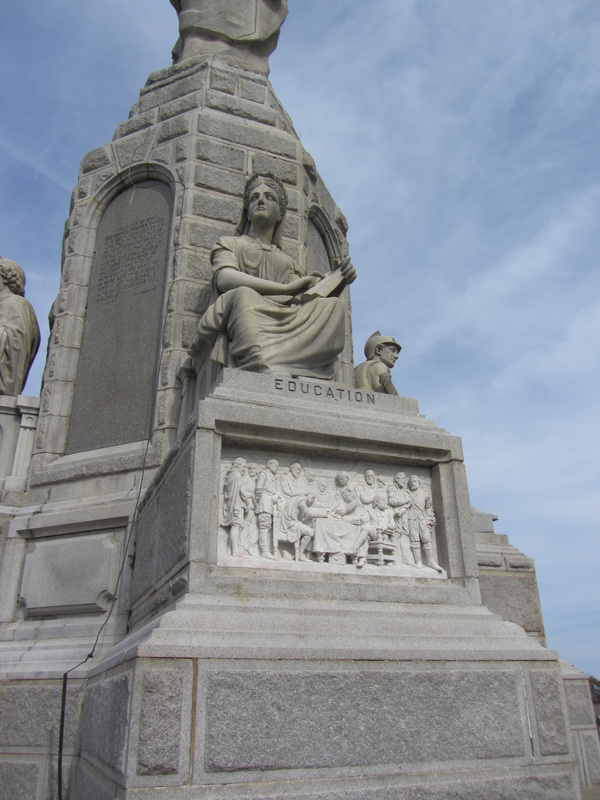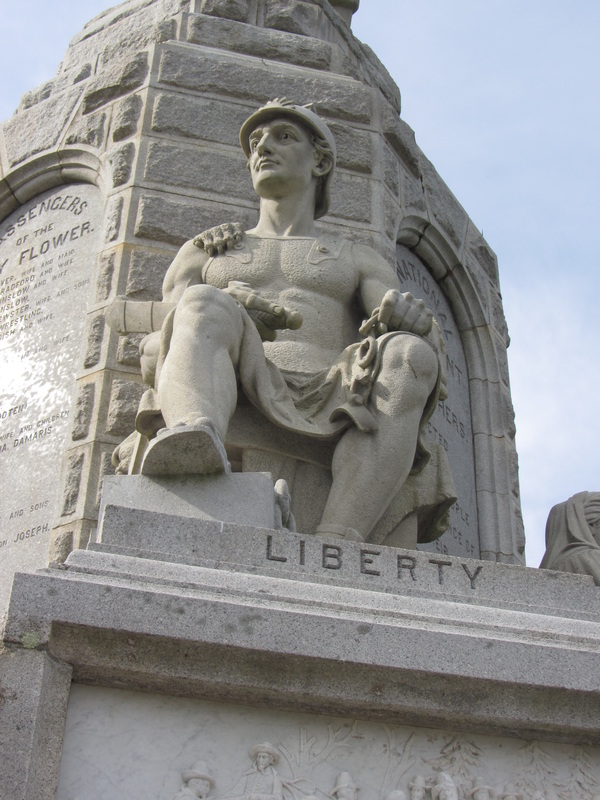 Below: Liberty, armed, ready to defeat any new foe - while wearing the skin of the defeated enemy.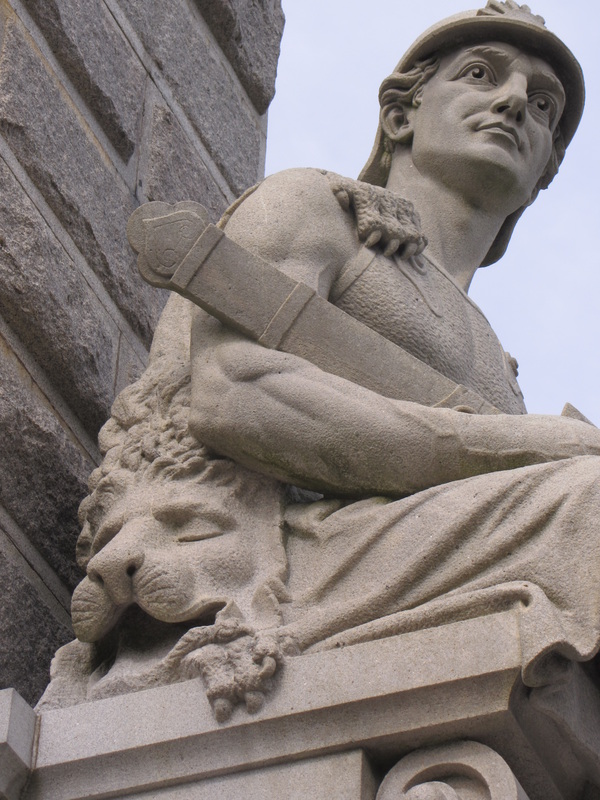 The group that had the tour. Later we went to see a working cranberry bog - and saw helicopters used in the harvest! That part was just fun; no history.