...and to Secure the Blessings of Liberty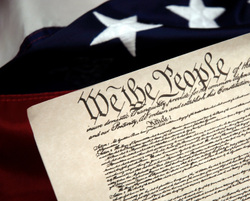 Welcome to the Home Page of the U.S. Constitution - Decoded!

__________________________________________________
Our government under the Constitution is the first and only government ever founded on the ideal that political power is sovereign in the people. We do not work for or belong to the government, it works for us.

The Declaration of Independence set forth the principles of the then-new country; the Constitution puts those principles into action. The preamble to the Constitution is the "mission statement" for the document and the government. It clearly states the the purpose for which the thirteen colonies joined forces and became one nation was "to secure the Blessings of Liberty to ourselves and our Posterity."

That is still the only legitimate purpose of the federal government.

Here, you will find information on study group classes, how to request a speaker for your group, and links to sites and authors of interest to all those who revere our Constitution and the Principles embodied in it. This is an active site; changes should be expected on all pages.

All articles on this site (or linked to this site) are copyrighted by the author. Any article I have written MAY BE USED for non-commercial purposes, as long as full credit is given and (if posted online) a link back to this site is provided. Direct links back to this site are welcome. Articles by other authors are subject to the conditions those authors have imposed; check with them for details.



---
---